This semester has passed by so quickly! I can't believe it's already the last week of classes. Here's a list of my top ten favorite memories from this semester!
Joshua Tree
One of my favorite memories from this year was my trip to Joshua Tree with Jordyn and Luke (my roommate and our good friend). We went camping, ate smores, and went hiking. I've never been to a desert with so many trees, and it was beautiful!
Coronado
Another really good memory was going to Coronado with Emerick. On the way down we stopped at San Onofre and saw the sunset J Coronado was great because it was such a relaxing trip! The sand is so soft and we left our homework behind so all we did all day was spend time on the beach and go jetskiing!
My grandparents being in town!!!
Definitely my favorite part of this semester was the past week of Thanksgiving break because this year my grandparents were in town! Since they live in Israel I don't get to see them very often. It's always special to see them, and I got to enjoy my grandma's cooking and my grandpa's sense of humor, and both of their great company. J To top it all off – it was Hannukah over Thanksgiving this year! So I even got to spend the first half of my favorite holiday with my family.
My final project for EE201 with Aaron
Another great memory from this semester was my final project for EE201. I've written a blog about the labs in that class and I think our final project is really cool! Each group makes a game out of hardware. We decided to make Ultimate Tic Tac Toe, which if you haven't played is a great twist on a classic game! So much better than Tic Tac Toe! If you're interested in how the game works – here's a link to the rules: ***link****
Starting research with Choma
Another cool experience from this year was starting research with a new Professor this year! I am now doing research under Professor Choma, who is one of my EE professors. I am starting in on a project with a new mixed signal circuit. It's perfect for me because I get to do some coding with microcontrollers and I'm also working with circuits. It's a great mix of CS and EE.
Getting my SynTouch paper accepted to the Haptics Symposium
One of the things I'm most excited for is that my research paper that I wrote over the summer while working for SynTouch LLC got accepted into the Haptics Symposium! Next semester hopefully I'll fly down to the conference and have a poster with my research.
Flying to Seattle for Boeing
I don't know if I've mentioned it, but I got accepted for an internship this summer with Boeing! They flew me up to Seattle for a matching event to meet some managers and try to find a good fit for a team to work with this summer. It was really fun to meet students from all over the country and also meet Boeing employees who are really excited about their work! It was also great to be back home for a weekend J (They put me in the Westin (a hotel) in downtown Seattle and I had an incredible view!) At the end of the weekend I got matched with a really cool group that tests the effects of lightening on materials in the airplane.
Salsa dancing at Santa Monica with Jordyn, Divya, and Sarah
One weekend Jordyn, Divya, and Sarah (my current roommate, my freshman year roommate, and our friend) went to Santa Monica for a street salsa event! They model it after Cuban street dancing. It was so much fun and so cool so see people dance causally on the streets of Santa Monica. Break on 2 (the USC salsa team) even happened to be there so met USC students too!
Going to the LA Artwalk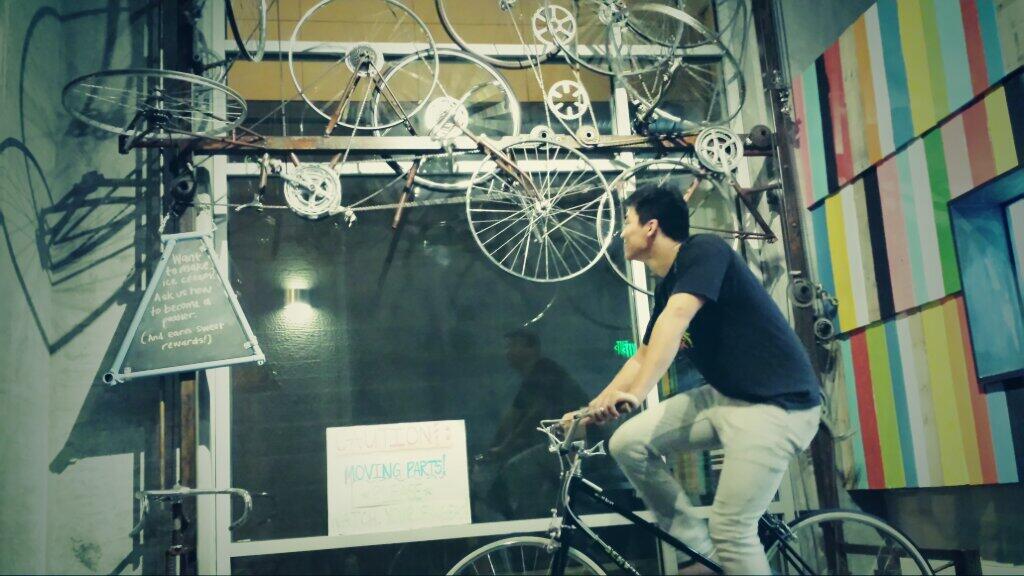 Once a month there is an Artwalk in downtown LA and Emerick and I went there a few weeks ago. It was really fun to see all the art and even some of the artists. It's a really cool atmosphere with a lot of people walking around having a good time.
Seeing Jordyn and Luke perform at Ground Zero open mic!
Finally, one of my top memories was seeing Jordyn and Luke perform at Ground Zero open mic! They sang ??? together and it was really fun to see them perform on stage together! I wish I were that good at singing.
There have been so many fun adventures I had this year – I can't wait to see what Spring semester has in store!